Blankeye and I have begun to experiment with different date-related cues. We have decided to start an open, public project here on the forum. The current plan is to post a set of TRNs once a week and have any available viewer participate. We ask that all participants complete the LearnRV DVD course before attempting any of these targets. Keep in mind, this is an advanced project that will go on indefinitely. TRNs will be posted at the start of the week, viewers can run them and post there work here, then the associated cue will be revealed at the end of the week (or ASAP, depending on the PM(s) schedules). There are two goals in mind with this project:
1.
To gain an understanding of how the Matrix interprets calendrical dates and events in both time and space.
2.
To attempt to forecast both near-term and long-term events and circumstances in order to help prepare one's self and loved ones accordingly.
In light of the recent increase in solar activity and general national/planetary distress, we have decided to immediately open the project to the public. Keep in mind, these are experimental cues which require heavy analysis. Please note that we are not out to cause panic or a self-fulfilling prophecy, only to help our fellow man. The first two posted sample sessions (my two blind sessions) begin with a calendrical date in the gross section of the cue. We do not know, at this point, if these sessions describe events and circumstances on that specific day and location, or if unconscious gives us the nearest significant information in time and space, relative to the cued date/location. This is one of the reasons for this project. In other words, we don't know if the events appearing in a site template occur on the exact date written in the cue, a few days before/after, or months or years before/after. Perhaps unconscious will go to the specified date and location, find nothing interesting, then go off 50 miles away because that's where the nearest significant occurrences are happening. This is what we hope to gain a better understanding of.
In order to keep the thread from becoming too unwieldy and chaotic, we ask that you post only your site template, any S6 work and a brief summary, analysis and postulate(s). Blankeye and I will be formulating the cues. Any Pros who wish to contribute cues and/or suggestions are encouraged to send them via PM to either of us, along with an explanation and goal for their cueing strategy. If and when any real world feedback becomes available, the original poster/forecaster is encouraged to bring to light any allegedly, accurate predictions for discussion. Be ready to back up your interpretations. Note that after the weekly cue reveal, you are welcome to edit your original post and add an additional 'post cue reveal postulate'. But it must be labeled as such and no previous postulates may be removed. We are all sticking our necks out on this one, so everyone best bring their A-game, project managers included. Any questions may be asked via PM.
Sample Cues/Sessions
(project cues may be very similar, entirely different or anywhere in between)
These cues were formulated by Blankeye. Sessions were run blind by Tiger74 (blind to specific cue, front-loaded to the cue's possible nature)
CUE/SESSION #1
[9026/5170] January 7, 2014/Stanton Energy Center, FL/operational status
Summary [9026/5170]
Jeff C.
5-4-13
2:47 am-Eastern time
Blind
Aspect X - has to do with a white object that is inside, up and perpendicular. Something about it is rolling down. It may be rolling thunder, but thunder was labeled as AOL. There is something primordial about it. There is something gold and reflective sitting atop. The idea of wasted is here. I feel like I'm hunting. The temperature here is balmy. There is a loop or something is looped and I am in wonder at/about it.
(AOLs include: thunder, trapped man)
Aspect A - involves something black, slick, dense and tubular. It's also gold, reflective and associated with a timed order. There's a man who is hunting and concerned about something that he's observing. There is a rotating lid (AOL - can o' worms) and a circular object. There is needed transmission (associated with) "a wide area". He is insane and it's like he's "locked up". (AOLs include: Can o' worms, terrorist/GITMO)
Aspect B - involves something solid, flat, convex, rolling, inside and under. (An object was referenced, but I believe it's the same object from [a]) It's green and turbulent here. Someone feels like they are finding (something/someone?). They are a uniformed soldier who is "hot under the collar". They have "bought into it", along with an army who feels bewitched. There is liquid cascading and dropping. There's a "lesson learned" and the idea of a calender.
(AOLs include: N. Koreans, Mao Zedong, enriching uranium, approaching soon)
Aspect C - is something silver, rotating and like 'beeswax' (beeswax came from a brief impression of a wet, honeycomb-like thing, as I remember back). Something is still, and there is learning. (AOL - candidate) There is something auburn, beige, flat and juiced. There is a shaded, wide, reflective pool of water that is "warming up". At the very end of S4[c], I had a brief impression of a boxcar filled with people, like the Nazis used. But I error trapped the word train.
(AOLs include: trapped, dictator, warming up for war, Nazi trains)
Postulates:
1. The aftermath and attempted repair/isolation of the Fukushima disaster area by military forces, including evacuating citizens and/or soldiers.
2. A country's dictator who feels trapped and "bewitched", along with the military, into preparing and/or using a missile or nuclear weapon.
3. A soldier gone insane from cabin fever at a radar/radio tower, who may be responsible for almost causing a nuclear meltdown.

Stanton Energy Center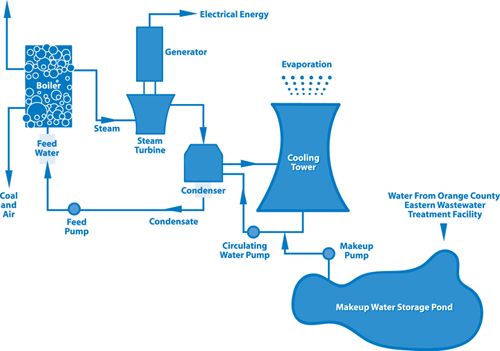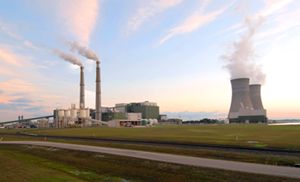 Post Cue Reveal Postulate
I now know that this site is home to a natural gas-fueled unit and two coal-fired units. Energy is generated by steam turbines. Coal and natural gas is what was probably referred to by the word primordial in session. The purpose of this target cue was to determine if the station will still be operating on this future date, and if so, was it supplying power to the grid? It was also wondered if the grid would still be operating to receive the energy that is transmitted to it from the power station. In light of this, it is my postulate that the power station is still operating on that day but there is needed transmission (associated with) "a wide area". I also wonder why there seems to be a military presence. There appears to be one soldier primarily associated with this station at or around this time who is insane and somehow "locked up". He has "bought into" something along with his associated army.
I wondered about this over the past few days. I finally had the chance to listen to Kocmodpom's interview from 5-10-14. During the show, he was asked a question about the possibility of "the powers that be" trying to exploit the solar flare situation by commandeering a power station and/or grid, in order to have control over a population. This was something I had never considered but this session immediately popped in my mind. There does seem to be an implication that that's what may be happening here.
CUE/SESSION #2
[7529/0561] January 7, 2014/125 East Merritt Island Causeway/Publix/inventory
[7529/0561] Summary and postulates
5-5-13
Jeff C.
11:41 pm-Eastern Time
Blind
This seems to be some sort of accident involving a bridge, a tunnel and/or a causeway. There are people, a car and/or possibly a boat. It may be an earthquake.
Aspect X - I feel screwed at the end of S2[x] going into S3[x]. [X] is tall and wobbling. There are ferocious people here. This is a tall city where there are emotions of afraid. Someone(s) is in danger. This is a public place. There is something white, circular and sitting which is capsized. (A boat?) I feel afraid here while another (or others) feel stunned. This is epic. There is listening going on. Something circular is associated with a couple; a man and a woman who feel entranced. There is something like a 'cabin'.
(AOL's include: bridge accident, "Escape From New York", boat wreck, trapped people, epic proportions, couple in danger)
Aspect A - I feel confused/hyper going into S3[a]. There is a circular, curved, open, wide tunnel and an entrance. I feel peaceful while someone feels alarmed and intense. There is a "high rate" and something wobbling off. (AOL - tires flying off). I feel gung-ho. Something is like a 'lance'. Something black is stalling. The future is considered. There is something winding. There is a structure and police present. The idea of "think about it!" is here.
(AOL's include: TV screen, high rate of speed, crash, tires flying off, black Porsche, winding road)
Aspect B - I felt pity (AI - pitiful) going into S3 of aspect B. Something is slipping under a 'causeway'. Something yellow, tiny and rubbery is stalled while it is transporting goods. There are "white walls" here. Something is open, curving which gives me an AI - It's loud!. Something is tubular and the idea of "Out of bounds" is relevant. Something is flat, torn and lifted which is associated with an object, a car and a road.
(AOL's include: Black and Decker, tires, tire truck crash, crane lifting car out of water)
Postulates:
1. A bridge collapsing into or near a causeway. Vehicles, boats involved. Maybe the bridge collapsing in Pt. Pleasant from the Mothman movie/story.
2. A huge earthquake at or near a major metropolitan area, including structures collapsing and trapping people.
3. The car chase/accident that resulted in the death of Princess Diana.
4. A large boat/barge hitting a bridge.
5. A tug boat trying to push a barge through a narrow passage which causes an accident
East Merritt Island Causeway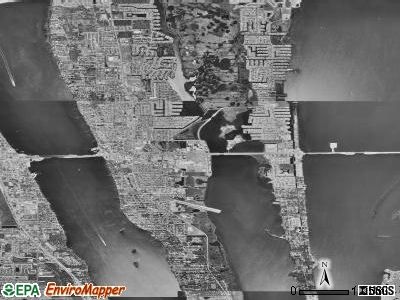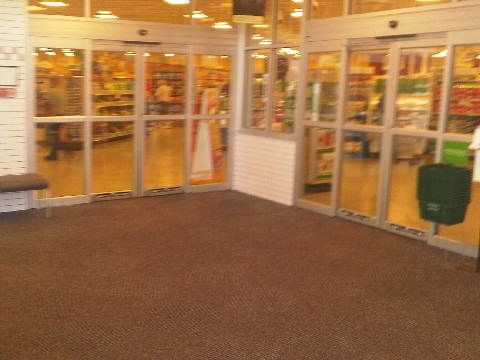 Post Cue Reveal Postulate
I now know this cue was based on a location with the word "causeway" in the address. The purpose of this target cue was to determine if a certain, normally, very busy, grocery store's shelves were stocked or empty on this particular date. It's hard to determine if my [x] depicts the store's shelves or the long causeway bridge leading to the shopping plaza. My bet is it's the bridge, as I had to AOL that numerous times from S1[site] through S3[x]. I even had to do an AOL sketch of a bridge. Either way, it appears there are ferocious people going to and fro. There's a good chance the bridge may be wobbling from all the traffic. The couple (man and woman) and the 'cabin' makes me wonder if they are fighting the crowd to stock up on supplies to survive at a cabin out in the wilderness, somewhere. The fact that the future is considered supports the idea of stocking up for the future. Or it may just mean this is in the future. Also, there seems to be an overall theme of stalled or stalling vehicles. Some of which are transporting goods. I would assume these are food/product delivery vehicles and/or boats. Something is capsized, which is a term only applied to boats. The tunnel entrance to the causeway (or at the end..not sure where the tunnel is in relation to the plaza) may be blocked by some sort of check point/road block. Police are mentioned. "Think about it" may be the police staring down/talking to people in the vehicles warning them NOT to go past the barrier. It seems someone doesn't listen and shoots "out of bounds" at a "high rate" and wobbles/slips off and under the causeway and possibly into the water. The "white walls" could be referencing the types of wheels/tires you see on some delivery trucks, the white walls on the sides of the trucks, or bare store shelves. It's hard to tell exactly. I picked up on rain numerous times in S2, but that could be from the humidity over the salt water.
Update
: If the above picture of the store's triangular entrance is what I was sketching in my S.T., then my interpretation would be that the transportation of goods is stalled, resulting in white, bare walls and/or shelves. I still am not sure if the element on the left represents the inventory flying off the shelves, or the bridge. Either way, I think the main message is clear. It seems to be a dangerous, chaotic situation at or near this location.
The first set of TRNs should be posted Sunday, 5-19-13